Just because you're heading out into the middle of nowhere doesn't mean you should forsake your favourite Doubleshot coffee carefully brewed to perfection. Oh no, that just wouldn't do, so we've tested out all sorts of portable coffee press equipment to discover what works and what doesn't.
Below you'll find out a little more about some of the best out there, in our opinion anyway, but what do we know, we're just a bunch of crazy coffee alchemists up to our eyeballs in coffee beans!
Stanley Classic French Press – The Tough Nut
If you absolutely, positively, must have the toughest portable coffee press on the planet, the Stanley Classic French Press is the one for you. This thing will take a beating, so it's a great choice if you are camping out somewhere where a bear might try and snatch your coffee off you.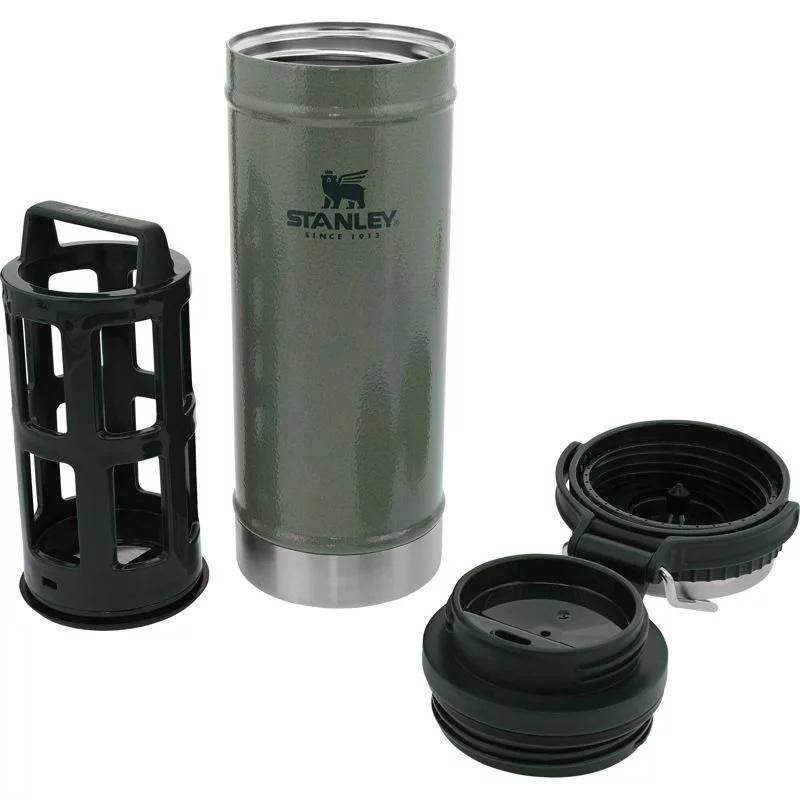 Constructed from 18/8 stainless steel, with vacuum insulation and a 470ml capacity, it's not the lightest or largest portable coffee press on our list. However, the Stanley is unsurpassed when it comes to keeping the heat in. It'll make sure that brew is nice and warm for up to 4 hours from the time of brewing! And if you want iced coffee this thing keeps it frosty for a whopping 20 hours 😮
Check out Camp and Climb for your Stanley Classic French Press
GSI Outdoors JavaPress – The Guzzler
How much coffee do you like to drink? If putting away around a litre of the stuff is your average daily intake, then look no further than the GSI Outdoors JavaPress. This truly is the big boy of portable coffee presses, with a capacity of just under 900ml. It's light yet sturdy, and with nylon cosy wrapping around the container it's got decent insulation too.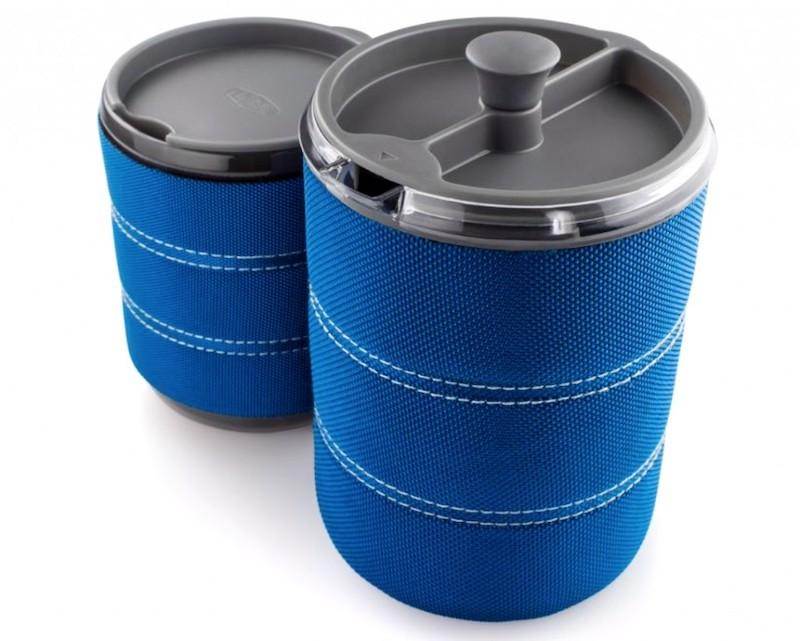 One particularly good feature is the silicone ring around the plunger to create a solid seal that keeps coffee groups trapped firmly at the bottom. An awesome all-rounder that works great for groups, but its size is sure to put some of you off, especially when you're going on a solo adventure.
Head to the Ram Mountaineering Gear website for a GSI Outdoors JavaPress
AeroPress Go Complete Travel Coffee Maker – The Magic Maker
When it comes to the AeroPress, well, we're a little biased here at Doubleshot. The truth is we love this incredible bit of kit. It's such a simple idea and works so well that we believe once you've tried it you'll never want to brew coffee any other way! If there had to be a downside, it would be that there's a few more working parts to this coffee maker than the others in our list. It takes a little practice to get the hang of it at first.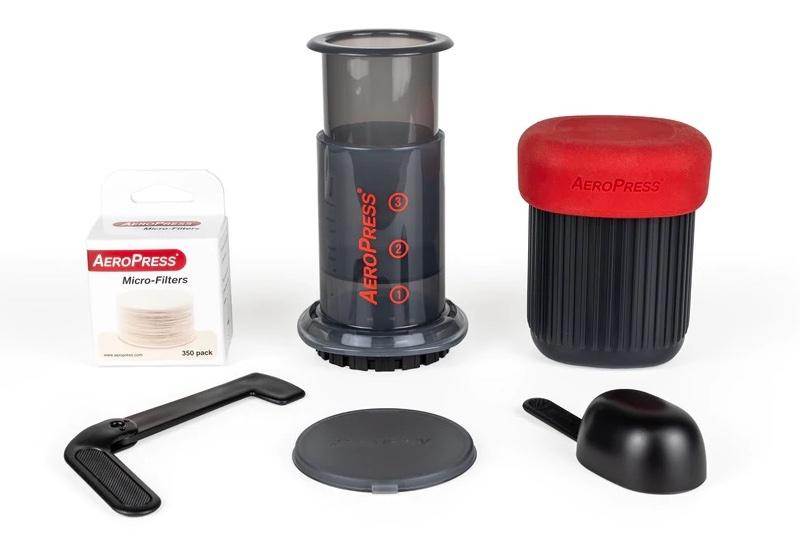 However, no other coffee brewing equipment in this list can match the versatility of the AeroPress. You have full control over your grind size and water temperature, and slight alterations to plunging time and pressure can achieve nuanced changes in your brew. Whether you want a big mug of classic Americano coffee, a small strong espresso, or even a cold brew, the AeroPress can do it all.
Grab yourself an AeroPress Brewer from the Doubleshot Store
Zyliss Hot Mug – The Easy Peasy
Now, this is about as straightforward and no frills as a portable coffee press can get, and at a very reasonable price tag it's worth noting. The Zyliss Hot Mug is basically a light plastic mug with a mesh filter plunger and handy lid to avoid any spillages. The mug is double insulated to keep that brew warmer for longer, but apart from that there really isn't anything more to it.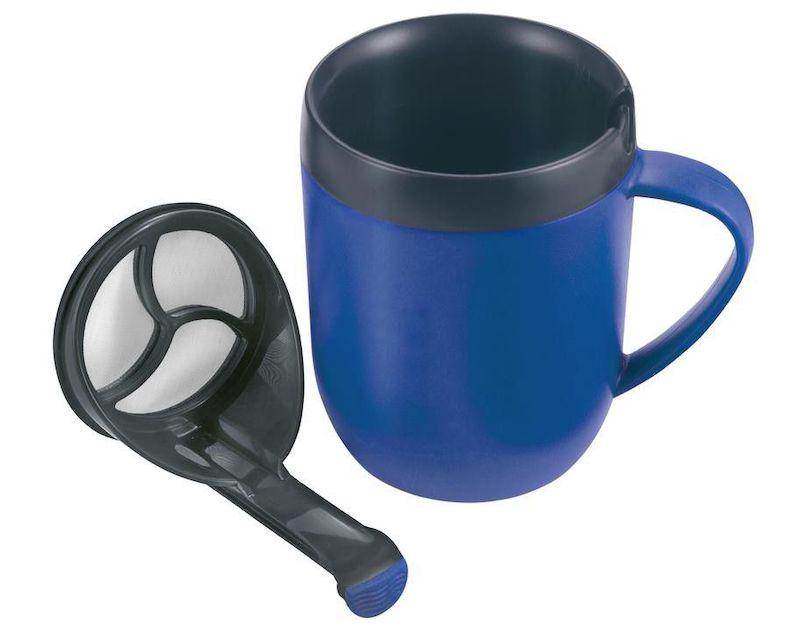 What's so great about it then? It certainly doesn't have the ruggedness of the Stanley, the capacity of the GSI Outdoors JavaPress, or the customisability of the AeroPress. Perhaps the best thing about the Zyliss Hot Mug is that it just doesn't care about being the best at anything, no, it's just a portable coffee press for the everyman!
Pick yourself up a Zyliss Hot Mug from Takealot
Got a Better Idea?
So there you have it, whoever you are and whatever you like, one of these portable coffee presses is sure to be a good fit. And if they're not? Then tell us what you're using and why it's so good in the comments below!